Feeling overcrowded by all the people looking stressed out anywhere you want to study? Getting easily distracted in your room,  annoyed with hearing people chat in Sci Li, and consistently not getting an armchair in Olin? It might just be that time of year where your brain needs a change of scenery.
Here's the good news: there are a A LOT of golden and woefully underutilized study spaces on campus. Most classrooms can be accessed for personal use until midnight! Sometimes they are reserved for events, lectures or meetings (even after classes are over) so you'll want to check before you go to make sure you won't get kicked out. How can you go about doing this? Check through the Virtual EMS Room Request system. This is a program you can access through your Student Portfolio (Look under "Event Scheduling & Calendaring" > "Room Request – EMS").
Sidenote: The Virtual EMS Room Request system is used to reserve rooms for any events, meetings, etc. that you might want to schedule on campus so it's helpful to know how to use no matter what. If you need a space for your student group or for a self-organized study group, you can actually reserve spaces through EMS but, in this case, you can also just use it to check out if a room will be occupied and not actually make a reservation. To do so, click the link, scroll over "Reservations" and click "Student Room Request," then fill out some of the information about the type of room you want. Choosing "Board/Seminar Style" or "Classroom Style" are good ways to go and filling in about 5 people for the number would be fine (unless you'll be in a group). Then click "Find Space" and check out the options — if something is being used during a time slot, the program will highlight it and usually say "Private" or list the reserved use of the space. If you want to actually make a reservation ahead of time so that you can be sure you have the space to yourself, click the "+" button and follow the prompts.
Below are some of  the peer advisors' (current and past) favorite, off-the-beaten-path study spaces on campus. Feel free to share yours in the comments!
Allbritton 311
Keep walking up the stairs of Allbritton (or take the elevator to the top), and you'll find this rooftop oasis. Normally set up with tables and chairs, this is an excellent and usually quiet place to study. On a nice day, go outside and enjoy the stunning view!

Downey House Lounge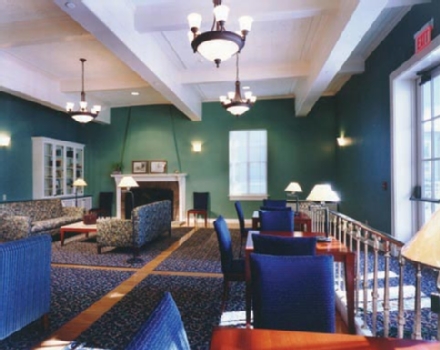 This is the lounge on the first floor of Downey House. Sometimes it's reserved for talks or events, but most of the time it's completely empty and beautiful! If you check it out and see people there, find the staircase in Downey and follow it up until you get to the roof, where you'll find a small nook with two cozy armchairs and a table. 
Allbritton 113
This room is on the first floor of Allbritton, to the right when you walk up the stairs. I call it the "War Room," because I'm a dork and it reminds me of what I imagine White House emergency planning rooms look like… kind of like this:
Emergency study sesh! Who wants a Weshop break??
Classrooms in 41 Wyllys
This room is Room 114 but really all of these new classrooms are beautiful, well-lit, have that brand-new smell, and–best of all–easy access to Usdan for trips to late night. Reserve them with a group of friends or just go on your own and see if one is empty. Also check out the COL library on the second floor.
Usdan Meeting Rooms
This room is Usdan 134, but there are also lots of great spaces on the first floor of Usdan. They're quiet and very spacious, with lots of outlets. Also remember that when not being used for faculty dining/university events (which are during lunch and some events in the evening) the Daniel Family Commons (DFC) on the third floor of Usdan is open to students for studying. Definitely check it out on EMS.