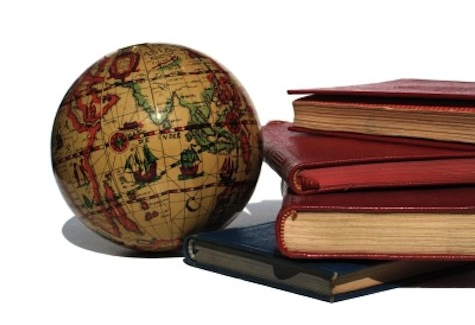 One thing that stands out to people when I talk to them about our lovely school is that no, Wesleyan does 
not
have any required core classes. As a first year, you immediately have the ability to enroll in a large percentage of the total classes offered at the school, many of which will have upperclassmen in them and all of which will be taught by renowned professors. Way cool.
You should know before you enter, however, about General Education Expectations, or GenEds for short. The most basic way of putting it is that while Wesleyan doesn't have required core classes, the faculty and administration believe students should take courses in three key areas over their four (or five or three or whatever) years at Wesleyan in order to receive the full breadth of a liberal arts education.
These three areas are Natural Sciences and Mathematics (NSM), Social and Behavioral Sciences (SBS), and Humanities and the Arts (HA). Not every class offered at Wesleyan will be listed as one of those categories but I think you'll find that most of the courses available for first year students do fulfill GenEd Expectations.
NSM courses, as you'd expect, provide students with scientific skills. They apply scientific method, utilize quantitative reasoning, and enhance scientific literacy. Don't worry if math or science is not your strong point. The NSM division made special efforts to offer a wide variety of classes – some of which are specially designed for non-NSM majors.
SBS classes introduce students to the systematic study of human behavior, both in terms of the social and the individual. They study the social processes that have shaped the modern world and look at political institutions and economic practices.
HA classes introduce students to languages and literature, art and the mass media, and to philosophy and aesthetics. Basically, to "the works of the creative imagination as well as to systems of thought, belief, and communication." I'm majoring in psychology but I've taken a bunch of classes in art history, studio art, and music, and they've all really been great.
Now that you know what GenEds are, you should probably know how to fulfill them. GenEds are split into two categories: Stage 1 and Stage 2.
Stage 1 requires that you take two classes in each of the three categories, all in different departments. For example, to fulfill the GenEd requirements for NSM, you might take one biology class and another in environmental science. The goal is to have finished Stage 1 by the end of your sophomore year.
Stage 2 requires that, after you've completed Stage 1, you take one additional course in each of the three areas by the end of your senior year. These courses do not have to be from a different department. For example, even though you completed Stage 1 with one class in music and another in studio art, your third HA course could also be in studio art. In total, you'll have taken 9 classes to fulfill GenEds by graduation.
I know what you're thinking — "I thought I didn't HAVE to take anything I didn't want to!" You know what — you don't. These are expectations, not requirements. So what are the consequences of not fulfilling them? Students who do not meet these expectations by the time of graduation will not be eligible for University Honors, Phi Beta Kappa (the oldest national scholastic honors program), honors in general scholarship, or for honors in certain departments.  Each department has different requirements, so your best bet is to check out department websites for more specific information. For instance, the psychology major requires prospective majors to have completed stage 1 and 2 of the GenEd requirements.
Additionally, if you ever want to know where you stand in your GenEds completion, you can always refer to the General Education Report. Click on "Student Portfolio" at the top of your EPortfolio, and under the first column titled "Academic Career," you should find the General Education Report. This report organizes your credits into three categories (HA, SBS, NSM) and tells you the status of both stages and what you need to take to fulfill them.
To figure out what classes are listed as fulfilling GenEds, click on Courses Fulfilling General Education Expectations on the bottom right of WesMaps. You can also get there through your EPortfolio.
I'd suggest entering Wesleyan with the intent of fulfilling GenEds. No, you don't have to, but there's also no real reason not to. If you're going to be a student at Wes, you might as well take full advantage of everything offered, both in terms of classes and in terms of extracurriculars. Taking classes in different areas really does enhance the value of your education, as cheesy as it may sound.